Description
Edit
Appearance
Edit
Black tom with blue-gray markings on his back and tail. Has blue-gray paws and violet eyes.
Nightleap worries--A LOT. He worries about everything around him, leaving other cats feeling like their walking on eggshells. Other than that, he is a very great warrior that cares a lot for his clan.
Hunting and training apprentices
Age, Rank, and Clan
Edit
22 moons; Deputy; LakeClan
Nightleap used to be a kittypet, like many of the original clan cats. He is the original LakeClan deputy.
"Are you sure we chose the right territory? What if we don't adapt to the water?" -Nightleap to Kestrelstar after the clans formed.
Coming Soon
Relationships
Edit
Coming Soon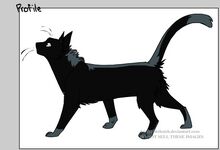 Ad blocker interference detected!
Wikia is a free-to-use site that makes money from advertising. We have a modified experience for viewers using ad blockers

Wikia is not accessible if you've made further modifications. Remove the custom ad blocker rule(s) and the page will load as expected.