Description
Edit
Thunderstar

Thunderheart can lurk in the shadows and is very fast.
Allegiances
Current Clan
LightningClan
Past Clan(s)
Loner
Life
Age
Unknown
Rank
Leader
Names
Names
Thunderstar
Family
Mother
Unknown
Father
Unknown
Littermates
None
Mate
None
Kit(s)
None
Education
Mentor(s)
None
Apprentice(s)
None
Fanfics
Living
Unknown
Allegiances
Roleplayer
Thunderheart
Appearance
Edit
Small, lithe black tom with blue eyes.
Kind and gentle. Loves kits and feels lost without a mate.
Hunting and fighting
Age, Rank, and Clan
Edit
46 moons; Leader; LightningClan
Thunderstar was one of the few cats to originally have been a loner instead of kittypet. He traveled for a very long time before he found the other cats.
Coming Soon
Coming Soon
Relationships
Edit
Coming Soon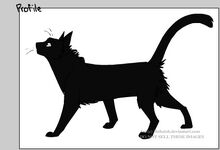 Ad blocker interference detected!
Wikia is a free-to-use site that makes money from advertising. We have a modified experience for viewers using ad blockers

Wikia is not accessible if you've made further modifications. Remove the custom ad blocker rule(s) and the page will load as expected.